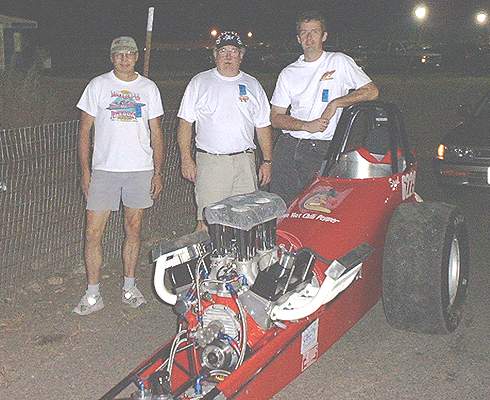 The Medford OHCP Crew (L to R): Dale Miller, Rich Dormer, Scott Charters
The Last Passes for 2001:
OHCP Nabs New Best ET and MPH
Medford - Friday 8/31/01
We had a blast at Southern Oregon Speedway's Friday Night Drags. Rich Dormer and Scott Charters took the day off and went down with me as crew. My uncle Dale Miller lives near Medford, and he met us at the track and helped out too. It was terrific having three guys there and everything went smooth. We didn't have much time between laps, so we were busy. Thanks guys!

We met up with other FED pilots Andy Frei and Lloyd Hamilton at the track, and tried to run each other all night. We got a little out of sync at times, but it was a lot of fun. We were running with a 4-tenths pro tree and I managed to get at least a few .480ish RT's.

I'd never been to this track before, but we will be back! It's a great facility...nice return roads, smooth track, and friendly personnel. Running at night is AWESOME! We'll do this again next year and try to get more of our Northwest FED buddies to go down too.

We finally got to try running some of that nitro we bought earlier this Summer. After talking with Don Enriquez at Hilborn, we felt very safe with a 20% load. Paul Breedlove, crew chief for the Slowride team, has plenty of experience running the stuff. He was kind enough to supply advice and teach us how to adjust our barrel valve. Thanks Paul! We mixed up a batch of 20% by volume. It really is 20% at 68&deg, but at the 80&deg temps we were running at, it turns out to be about 17%. Since we don't have a hydrometer, and had no need to be consistent, we could live with that. The track elevation is 1400 feet, and the corrected altitude throughout the night averaged around 2500'.


Hamming it up while waiting our turn (L to R): Scott Charters, me, Dale Miller.

We ran an additional pound of pressure in the tires, and I filled the weight can because I didn't know what to expect. Since we would only get 4-5 passes in, I didn't want to have to abort any of them because of ragged-edge launches. First time out, we layed down an 8.296 @ 160.14. I was plenty excited, because it wasn't even dark yet! We thought for sure it would get even quicker as the air got better and the temperature dropped. The apparent density of the nitro would increase a little and help us out some more too. We managed a 1.216 60' time on that pass, which is our best ever with the 4.10 gears.

Our ET's hovered in the low 8.30's all night, but never got quicker than that first pass or got a better 60' time. We played with removing some weight from the nose, but that only caused it to launch funny. Eventually, on an 8.306 pass, we zoomed to 161.29 MPH, a new best top speed by a few hundredths.

The motor had a slight miss through the lights, and we played with the high-speed leanout hoping to cure it. We weren't sure if it was rich or lean. I assumed since it was kicking out foot-long header flames while sputtering, that it was rich. We carefully leaned it a little at a time, but it didn't change. Finally on the last pass of the night, I turned the bypass around to disable it. No more sputter. So it appears I was running the top end a bit on the lean side afterall.


Lloyd and Linda Hamilton from Forrest Grove preparing for a pass.

A big THANKS to Slowride Racing for letting us plug-in to their generator and throw some light on things in the pits. Also, a huge THANKS to my uncle Dale for letting us park at his house and all crash in his camper for the night.

It's looking like our outing this weekend may be the last for the season. With the wedding coming up, I have a bunch of other things to take care of over the next couple of weeks. If the weather is still nice in mid October when we return from the honeynoon, we may haul up to Woodburn again before tearing it all apart for the Winter.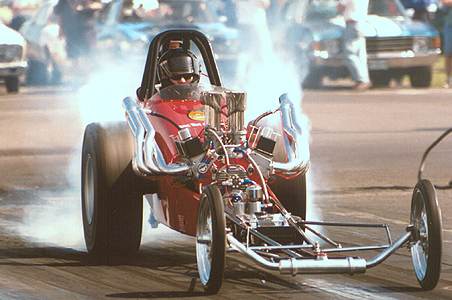 Woodburn - Sunday 8/26/01
Well, the driver sucked today, but we still managed to have fun. John Koegler took a day off from putting laps on his mean Impala to help me out. John was my only help, and he was running his butt off to tow, buckle me in, keep the tire pressure under control *AND* jump start the car. Thanks John!

The Chili Pepper ran great as expected. The tranny launched better, hit harder and slipped less than ever before. We managed an 8.53 best ET today which is about .08 better than we normally would do with the headers and mufflers on in 87&deg heat.

We got paired up with Derrick Jackson (point leader) for the first round. We dailed an 8.55 and ran it! Too bad Derrick ran the 11.01 that he dialed too. We lost because of my snoozing reaction time of .574. I cut slow lights all day long. That is until the consolation (first round losers) round where I managed a .482 for a bright red apple. The car did all that we asked, I just had an off day.

I'll be polishing it up and heading down to Medford this Friday for their Night Drags. Zoomies and 20% at night oughta be a great way to finish up the season!
Next Stop: Medford - Friday Night Drags - August 31st, 2001
August 20th Update
I picked up the tranny from Don Kalina on Sunday morning, and Scott Charters and I got the car mostly put back together. It looks as though J&W put the converter together wrong. They were supposed to add .250" to the converter to make up for my motorplate thickness. The box it came in said +.250", but it took several washers to space the unit back far enough to engage as it should. This would be no big deal except that the pilot in the center doesn't hardly engage with the back of the crankshaft...it needs to be longer too. Of course it's my fault for not noticing when I put it all together the first time. We checked the converter for runout with an indicator. Fortunately, the tiny bit that engages in the crank is enough to center it properly.

As it turns out, the pump conking out wasn't a huge deal (except for ruining a weekend of racing). The previous owner had the tranny cooler lines bypassed internally. This amounts to grinding a groove in the pump body to allow the fluid to get through without the cooler circuit installed. I wanted this circuit working again, and the only way it would have happend would have been to replace the pump anyway. It would have been nice to do it this Winter instead though!

Don put all the good stuff in it and did all his tricks for me. He says his Powerglides are good for 3 seasons. Did I mention that his prices are very reasonable?

Rob Louthan checked out those iron heads for me, and it doesn't look like they are my cup of tea. I'll keep looking. We are still on track for next Sunday the 26th at Woodburn. Now that we aren't trying out new heads at the same time, we'll see just what a difference a fresh, tight tranny (that's put together right) makes. Due to impending matrimony in mid-September, this weekend may be our last outing at Woodburn this year. We are planning to hit Medford on the 31st for their "Friday Night Drags" (still looking for crew: hint, hint) and maybe call it a season. By the time we get back from the honeymoon, it will be early October and there's no telling what the weather will be like then!
Next Stop: Medford - Friday Night Drags - August 31st, 2001
August 14th Update
Don Kalina the Powerglide guru took a look into The Chili Pepper's transmission tonight and said it would be better than new by this Sunday. The problem was that the converter was too far out and had eaten up the pump. He said that the internal pressure was low as a result and that the transbrake quit working properly. Pass #3 last Friday is when it finally passed the minimum threshold of what it needed and it started wigging out. Upon reinstallation, I'll have to check and maybe shim it out to the proper depth.

It just had a cheap-o band in it and it was thoroughly smoked. The low pump pressure had worn all of the friction material prematurely. A new tricked-out, special Kalina pump, a Kevlar band, a few other little parts and away we go. He said we should see noteable improvements in ET and maybe a few more MPH when he's done with us.

I'm dropping the Dart Iron Eagle heads I borrowed off at Louthan Performance Cylinder Heads in Salem to be flowed and evaluated. If they look promising, then I'll bolt 'em on this weekend and we should be screaming quicker and faster than ever on the 26th!
August 13th Update
Thanks to Rich Dormer and Ken Miller, the tranny is already out and ready to be torn into. Thanks guys! Unfortunately, one of Ken's shoes paid the ultimate price. While lifting the unit out and trying to catch the converter, he managed to get a shoe full of ATF. Hopefully, the Powerglide will be ready to go by the end of the week and the weekend will be spent putting her back together.
Oldies But Goodies/Hot Rod Nationals
Woodburn - August 10th, 11th, 12th, 2001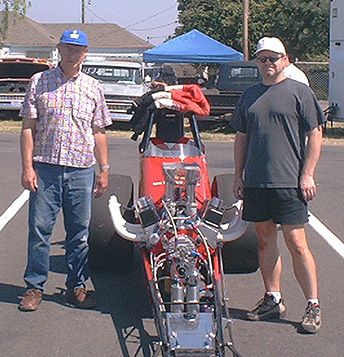 Ken Miller (left) and Gary Watts ready to get 'em on Saturday
Not a good weekend for the Chili Pepper. To keep this all in perspective, I have to remind myself that we have pretty much just refueled the car between passes and had no real problems all year long...

Kurt Cleveland was kind and adventurous enough to take Friday off and volunteer to crew for me. Thanks Kurt! We were also helped later on by Kent, Blain, Josh and Josh. Great job everybody! The problems we had didn't damper the spirits too much, everyone had a blast.

The heat was blistering! We turned in two decent passes early on, an 8.57 and an 8.61. I was hoping for an 8.40 pass, but we kept her running rich for consistency and gave up a bit of power. Did I mention that it was hot? Really thin air made for crappy ET's.

We tried to go out and get a third pass in before the first round of the Oldies eliminations, but the Suburban wouldn't start. Stone dead! We jumped it, the ammeter showed a charge, and we towed into line. Right before we were to fire up The Chili Pepper, the suburban died and it wouldn't start the racecar. CRAP! We jump started the Suburban again and towed back to the pits instead of making a pass. After confirming the tow rig really was totally dead, we decided to run to town and get a battery. We had about 45 minutes...

Danny Southerlin from the Sweet Racing Team hauled me in to Les Schwab's to buy another while Kurt pulled the old one. After navigating an alternate route back to the track to bypass gridlock in downtown Woodburn, we had to fight our way in at the front gate. Apparently, the handstamp the track owner gave us while giving us directions wasn't good enough for him on our return 30 minutes later. To make a long, unpleasant, rediculously frustrating story as short as possible, we got the Suburban running and back in line with dragster in tow just in time.

I pulled The Chili Pepper into the beams for the first round and hit the transbrake. To my complete surprise, the car responded by backing up out of the beams! I staged again and once again hit the button. Insteading of locking the car in place, it decided to back out of the beams again. I finally got a red light for taking too long. CRAP!

So much for Friday...

Friends Ken Miller and Gary Watts crewed on Saturday. We started by changing the filter on the transmission. I thought maybe it was plugged with friction material and maybe couldn't make enough pressure to lock the car in place. That wasn't it. I went looking for advice and talked Clay into adjusting the low gear band for me. His theory was that it was slipping too much and not overcoming the reverse circuit. We tried it again, and instead of backing up, it decided to creep forward!

We backed off the low gear band a half turn, and on the next pass, it couldn't decide whether to go forward or backward...it did both instead of lockup solid like it should. It appeared we had bigger problems than a slipping band. I footbraked it anyway and managed a best pass of the weekend for us: 8.54. Clay helped us reduce the slippage on our mostly worn-out band and we got down the track better.

We pulled the transbrake unit out, hoping to find something that would cause it to flutter and malfunction, but really found nothing except for some scoring on the plunger. We put it back together and I decided I'd just foot brake it for Sunday. At least we'd be racing! We started it up to put fluid back in it and check for leaks, and we had no reverse at all! CRAP! At that point, I figured more damage could be done by running it, so we packed it up.

Since we had prepaid passes for Sunday, I talked my now unneeded Sunday crew into to going and watching for a while anyway. Rich Dormer and Tom Twigg went along and we tried to be spectators. It was tough.

I did meet Don Kalina, the Valley's resident Powerglide expert at the track. We talked for a while and he said he'd be happy to go through the tranny for me this week. Rich and I will yank it out and haul it in for him to look at. I also have a set of Dart Iron Eagle heads to try out. Tyson Price has them for sale and is willing to let me "try before buy". They have huge ports and may not be very good for my motor, but we'll see. Hopefully we'll be testing and tuning with a fresh tranny and iron heads at Woodburn on Sunday, August 26th.

Next Stop: Woodburn - Test and Tune - Sunday August 26th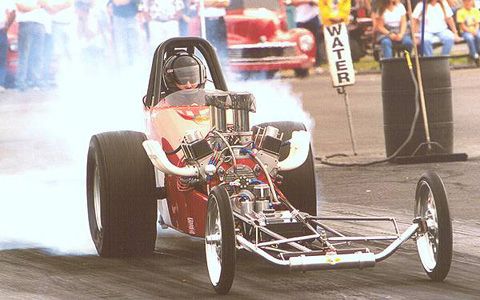 Woodburn - Sunday 8/05/01
We did okay and had a great time today. It was clear blue and 85&deg with a light breeze most of the afternoon. Thanks go to Scott Charters and his brother Sam Charters for helping keep the Chili Pepper a threat.

We had some weird things happen at the starting line today, mostly driver induced, but ran VERY consistent in the practice laps. We ran an 8.675 and *TWO* 8.671's back-to-back! Three 8.67's in a row made it pretty easy to dial in. Lucky for us, our first round opponent redlit. He got out of it and I blew by him. I didn't see that he had redlit, so foremost in my mind was not to breakout. I lifted just before the 1000 foot mark. According to data from that pass compared to earlier laps, I would have run an 8.61 on my 8.67 dial!

The temperature kept climbing and we dialed an 8.63 for the second round. I got him on the tree, with a .518 to a .543, and kept my foot in it. It was too close for me to call at the finish, but I broke out by .009. If I'm going to lose, I'd prefer to do it going too fast as opposed to getting beat off the line or going too slow, so what the heck. We were close.

I removed 3 lbs. from the can to see what would happen, and it bounced like crazy on the wheelie bar! We put the lead shot back in and things returned to normal.

Next week, is the re-run of the Oldies race that was rained out last month. Also, the annual Hot Rod Nationals happen on Saturday and Sunday. I'm still getting help lined up for the three days, but it looks like Team OHCP will be out in full force for the three days of action.

Next Stop: Woodburn "Oldies But Goodies" Make-up Race - Friday, August 10th
"The Hotrod Nationals" Saturday and Sunday August 11th & 12th




HP Credit Union - Friday 7/27/01
The Cruise-in was a lot of fun! Quite a few kids and lots of inquisitive engineer-types were on hand. The Chili Pepper was the only race car there, as most of the other vehicles on display were street rods and classic cars. We were unique to say the least. Hot dogs, soft drinks and live music were enjoyed by all. I forgot the sunscreen and got thoroughly roasted. I think I talked the event coordinator into having a burnout contest next year...or maybe a LOUDEST vehicle award. A wheelie contest?

Scott Charters and I did the gear switch-a-roonie last weekend, and put the 4.10's back in it for the 1/4 mile. Thanks Scott! If I can find the help, Team OHCP will be at Woodburn this Sunday for the regular ET drags.

Next Stop: Woodburn ET drags Sunday, August 5th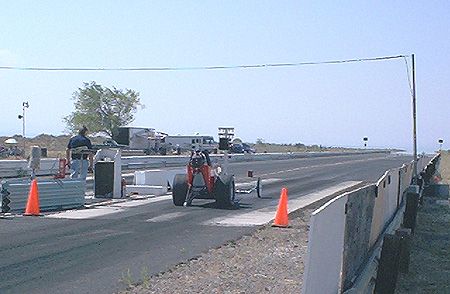 The Chili Pepper stages for a single on Saturday at Madras
OHCP hits the Desert 1/8th mile at Madras
Madras Dragway- 7/21-22, 2001
We had a great time at Madras! Too bad we didn't do a bit better. We'd never run the car at that elevation, and the heat only made things worse. The 4.86 gears got us a best-ever 60' time of 1.203, but the best 1/8th mile ET we could muster in the thin air was a 5.47. Our best at Woodburn with the 4.10 ratio is a 5.31 while burning 200' air.

We chickened out on the camping, and Shelley was real happy to hear that Rob and I got us all a room in town. We were afraid we'd have to hose each other down in the burnout box so we could stand to be near each other after two days in the heat, so the shower was very appreciated. Shelley cooked us great meals on the camp stove in the pits over the weekend.


The Chili Pepper Pilot eyeballs his opponent Rich Bailey in the far lane

The Top Comp field was pretty thin, lots of folks couldn't make it at the last minute. The car pulled a 5.47 each morning, and turned 5.49's in the afternoons during practice. We were pretty confident we could repeat for the first round. After lunch on Sunday, the temp shot up to 90° and due to delays with the timing equipment, the density altitude soared to 4500' before the first round. I just knew it would slow down a bunch and we dialed a 5.51. I cut a crappy light on the 4-tenths pro tree and Rich Bailey had a large advantage. Then for whatever reason, the Chili Pepper decided to pour on the mustard and give us a 5.48 pass for a major breakout. Rich went on to win all the tacos, capturing his first event victory. Congrats Rich!


Rob Midtun does the "Tire Pressure Boogie" before firing the motor

The first round losers were to race each other later, but due to the delays, the late hour and the long trip home ahead, it was decided to pack it in. Our would-be opponent had lost oil pressure during the first round, and we would have run by ourselves anyway. A big THANKS to Rob Midtun and my sweetie Shelley for all the help. Thanks for having us Madras Dragway! Hopefully, the Oregon Open will become an annual event.

The Chili Pepper will be appearing at the Hewlett-Packard Credit Union Cruise-In this next Friday. No racing this weekend as Woodburn prepares for the Pro-Stock Invitational next Monday and Tuesday. Finally, maybe I should do some work around the house for a change!

Next Stop: HP Corvallis Credit Union Cruise-In - Friday, July 27th






Woodburn - Sunday 7/08/01
The Chili Pepper made it to the third round today! We were handed the first two rounds on breakouts (.004 and .003) so we didn't have to work too hard to get there. The car responded as expected to weather all day today. It's finally starting to make sense. The car seems to be more predictable running the collector style headers. I put washers between all of the disks on the SuperTrapps and it's pretty much the same performance as running no mufflers at all.

We had to add shoepolish to the front wheels, as during one of our two practice passes, I managed to redlight with a .475! I nailed the tree good, but there was no way that could happen on a bright, Sunny, cloudless day unless there were some shineys off the polished aluminum. I'll spray a flat white ring on them both this week.

In the third round, we killed him on the tree and then right after the half-way point, my foot slipped off the throttle. It was quick, but enough to do us in. I compared ET slips with the previous round and got real depressed. The 1/8th mile time was just a shade slower than the previous 8.62 pass. We dialed an 8.64 and beat him at the tree .508 to .552. All this and he was .02 over his dial. In other words, had my foot not slipped off, we would have won handily. DAMN! The throttle pedal will see some improvements this week.

Hats are off to Scott Charters and Louis Barinaga as they hustled buns all day long to keep The Chili Pepper scream'in. It was a hot one...92° as we were loading up. Lou got some great shots with his fancy camera. I'll post some here when I get them from him. Thanks a bunch guys!

Next week is the big 4-day long Federal-Mogul zoo at Woodburn. Big events like that just don't turn me on for some reason. Too much waiting around and not enough passes due to the huge number of cars. I'm planning to stay home and ready the car for the Oregon Open at Madras on the 21st. I have a fresh 4.86 ratio drop-in waiting to try for the 1/8th mile. Besides a gear change, there's alot to do to get ready for the trip. We'll be camping at the track for two nights, so there is more equipment than usual to find, clean and pack.

Next Stop: The Oregon Open - Madras Dragway June 21st/22nd
Woodburn - Test-N-Tune 7/01/01
We decided to experiment for a change and see what could be learned by leaning the motor way out. We've been running really rich trying to be consistent and are sacrificing some power. We decided to bag racing for a weekend and get some passes in with more aggressive high-speed bypass settings and pill sizes. We learned where too lean really is on the first pass. By the time we got back out there the best air of the day was gone, so we didn't set a new best ET unfortunately. We did repeat our best 60' time though. We had a lot of fun, and met some great guys. We'll be back next week with mufflers so we can compete in the Super Pro bracket rat race.

I felt really crappy about an hour after we got home, so I went to bed early and didn't update the website. I guess the emails complaining about the lack of a timely update here tells me that folks really do visit this site regularly!

Thanks Rich Dormer and Rob Midtun for the help!

Next Stop: Woodburn - Sunday, July 8th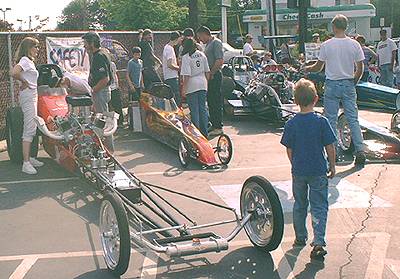 Schlotzky's Deli, Salem - Saturday 6/30/01
Every Summer Saturday night is a cruise-in at Schlotzky's in the capitol city. Top Comp racer Rich Bailey of Salem arranged for a showing of drag racing machinery at the weekly event. The racers in attendance were members of the Oregon Department of Transportation's Team Safety. The picture above is just one little corner of the display...there were several other drag cars there and probably a hundred or more very nice roadsters, pickups and street machines for the regular cruise-in. It was a lot of fun...Thanks for having us Schlotzky's, and thanks Rich for setting it all up!
Woodburn - "Oldies but Goodies" 6/23-6/24 2001
Qualifying was great on Saturday with cloudy skies, but Sunday was a total washout. 100's of great old cars were on hand for the 25th annual event at Woodburn. We were sporting the zoomies and hoped to find some more 8.30 passes, but it wasn't to be. I set things on the rich side for consistency and predictability, not for max power output. We got 4 passes in for the day: 8.44, 8.41, 8.40 and 8.45, all at 157MPH. I was hoping we'd turn in another 8.40ish lap on Sunday for the warmup and enter the first round knowing pretty much for sure what she'd do. The constant drizzle and cancellation Sunday morning prevented us from finding out.

I turned the delay box off so as not to have an unfair advantage since I planned to race the other FED's that were there. This wasn't the typical Super-Pro bracket race day that we are used to at Woodburn. I had two dismal RT's and then two .530's with the 5-tenths full tree.

Jim Fischer, Mark Woodruff and Scott Charters did a terrific job as crew on Saturday, and Rob Midtun and daughter Jasmine were there for me on Sunday. Too bad Rob and Jasmine didn't get to see any action. Maybe I can talk them into coming back another time when the noise, fumes, smoke, and speed are all at full-tilt. Thanks everybody!

George and Karen Adams put a great shot of The Chili Pepper on their Northwest Drag Racing website. You'll find us in their photo album for the "Season Opener."
Woodburn - Sunday 6/17/01
We had a lot of fun today and added another volume to the OHCP knowledge base. We were trying out some SuperTrapp mufflers on the upswept headers for the first time. I had 18 disks on each and it was plenty loud warming it up. We thought it might be in the 8.60's afterall. We usually run 8.50's with those headers with no mufflers. We cranked up the wheelie bar a little higher, and removed another 5lbs. from the nose. On the first practice pass of the day, we popped the front wheels up, lost traction, then grabbed and bounced on the bar again for a dismal 8.857. The overcast was very dark, and as a result just about everyone was redlighting...including me by .007.

Due to the number of cars, we were limited to two practice passes. It was a crapshoot for a dial-in for the "Dash for Cash". This is a practice pass in which everyone dials in and the person with the lowest difference, combined with the best reaction time wins a gift certificate for something. Well, with nothing to lose, I threw an 8.79 on the car. To my amazement she turned an 8.792! Too bad my reaction time was so lousy, or I might have won. The good part is we hooked, got 8" under the front wheels, and got a good solid pass.

First round...the corrected altitude went from 300' to 460' by 2PM. I knew it would slow just a bit. I put an 8.80 on the side and hit an 8.80 with a 9! BABY! Al got me on the light, but my dial was too close. Another unfortunate thing about the SuperTrapps and headers is that I lost 10MPH over the zoomies. Every pass today was 149MPH instead of the 159MPH we were hitting regularly. Oh well, we lost some speed and gained some ET, but at least we are competitive. We looked around at others running these mufflers, and most folks put some flat washers between the disks. Well shoot, I can do that too next time! The backpressure was enough to negate the evac system and we got about 8oz. of oil in the puke can every pass.

We were feeling pretty good after that last pass and almost looked like we knew what we were doing. The corrected altitude by 3PM was 600' and I figured we would slow some more. I put an 8.82 on it and cut a decent light. I passed the guy like he was standing still and figured he redlit or broke. As I approached the finish line, I thought "Hmmmm, maybe I better get out of it so I don't break out". Too late. I turned in an 8.782. CRAP! Broke out by a whole 4 tenths. We must have been running on the ragged edge of lean in the morning. When the air worsened in the afternoon, we picked up power as the air-fuel mixture got closer to being right. The problem with that theory is that the car reacted correctly to the changing air all morning. More head scratching to do on that one.

Thanks Rich and Shelley for the excellent help!

Sorry no photos...the memory card in the digital camera decided to quit working for Shelley this morning. I did get some video of my 8.35 pass (from the Season Opener event) from George Adams. I'll try to get a couple of video clips made to put here.

It's two whole days of the Oldies but Goodies at Woodburn next weekend. We ran into two new front engine cars today that said they would be back next week, and it sounds like our other FED buddies will be there. We'll be there both days sporting zoomies if I can find some help.

Next stop: Oldies but Goodies, Woodburn - Saturday and Sunday June 23rd & 24th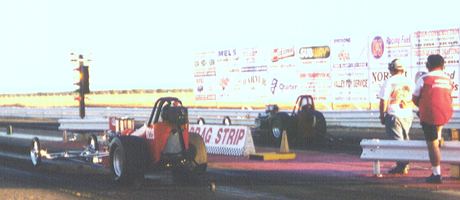 The Chili Pepper Screams at Redding
Redding, CA - Saturday 6/2/01
Here's a few shots of the trip to Redding. Here we are leaving in high gear by mistake and getting beat off the line bigtime. That's Rick in the other lane launching hard. We didn't get the 4-tenths pro tree we were counting on this pass, so we both redlit. Every pass (except this one) was in the high 150's. Our best speed of the day was 159.57 MPH.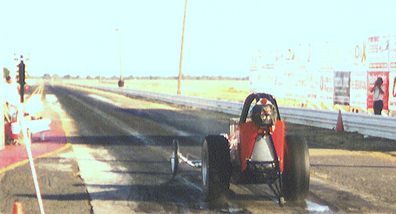 A single run later in the day. The meatballs are spinning, but there's no smoke yet. We got in 7 passes overall. I wanted to get in all I could!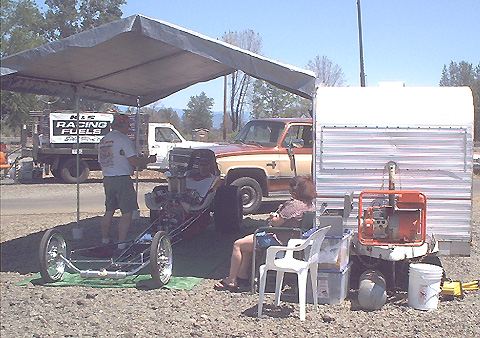 Here's our cozy little camp in the pits. We are getting ready to put some heat in the motor before our first practice pass of the day. That's Rich standing by with the gas squirt bottle, and his wife Sandy sitting off to the right.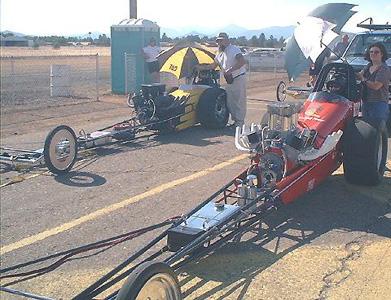 That's The Chili Pepper next to Tyson Price from Tillamook in the lanes at Redding Dragstrip. There were 8 nostalgia dragsters on Saturday, 4 injected and 4 blown. Most of the injected cars made two practice passes before the show started at 4PM. We were hearing that everyone loses 2-tenths off their best at Redding because of the corrected altitude. In the heat of the day (corrected altitude 2870 ft.), we were turning consistent 8.56's...about 2 tenths off our 8.35 from Woodburn a couple of weeks before. All the other cars were turning 8.50's as well, so we decided not to play with any nitro. We wanted to keep the racing close and exciting. Plus, with the air the way it was, we knew even running 20% would not get us in the 7's. It would be lots of hassle and risk for nothing.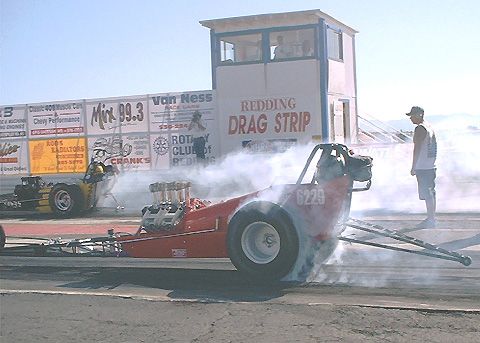 Fortunately, we had no problems all day. We just filled her with fuel, swapped pills a few times as the air changed and kept doing laps. We managed to beat everyone to the other end at least once over the course of the day. Rick spanked us in the third round...I made the whole pass in high gear and lost by over 4 car lengths. We got him back later. Andy Frei from Klamath Falls dropped out after the first round burnout due to a timing belt problem, so we never got to run him. He might have whooped-up on us all.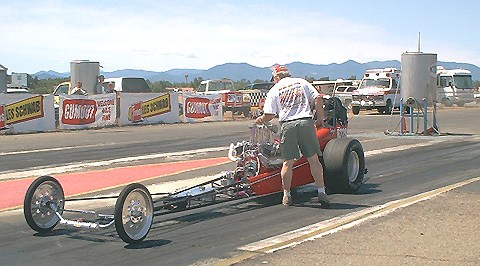 There's Crew Chief Rich Dormer pulling the screen bag off the injectors after the burnout. I had a single on one of the passes and tried out the chute for the first time. The 4-tenths pro tree was a trip. Finally on the last pass (after dark), I managed a .456 RT. It's harder than it looks! We were all busy during the nostalgia passes, and I wished we could have gotten photos of the other cars there. Shelley managed to drive the tow vehicle and get the shots you see with the new digital camera and a few more with her old conventional camera.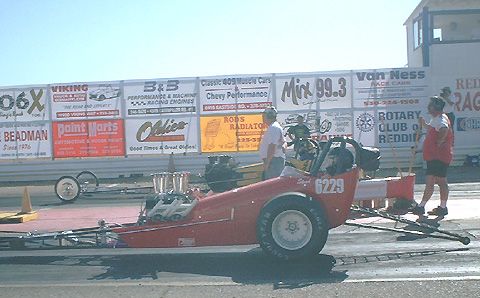 The last contracted pass happened a bit after dusk. We weren't done yet! I wanted to make at least one pass after it was fully dark. Rick and crew from Sandy, OR said they'd be willing to make another run with us. We let her cool for about 30 minutes, refueled and got back up there before everyone left. The tree was super-bright at night (hence my best RT of the day). The cockpit was dark, and it was hard to tell if it was in low gear or not, but I managed to find it. We had some intermittent blue header flames going while staging, and the shift light was never more obvious! It was one scream'in pass due to the 1160 ft. air we got after dark, and was probably one of the closest races of the day.

The darkness made it seem like we were going twice as fast, and I could see him beside me in the left lane the whole trip. About 2/3 of the way down, the track got REALLY dark. I couldn't see the track at all for about the final 3 seconds of the pass, but I kept my foot in it and aimed for a light spot in the shutdown area. Finally, the finish line cones zinged by and I cut her off. I made it there first with an 8.43 to Rick's 8.48. What a rush! There is just nothing like a night pass with another FED blast'in in your ear the whole way.

A Great Big Special Thanks to Rich and Sandy Dormer and my sweetie Shelley for enduring the long journey down there, the 90 degree heat and keeping The Chili Pepper pounding the pavement all day and into the night. Also, a big THANKS to Gary Eickmann for putting the deal together and getting us entry and tow money for the gig. Thanks for having us Redding Dragstrip!
The Chili Pepper Hits the Road for Redding

I got final word last night that we are to start making passes at 4PM on Saturday at the event. Hopefully, we will get to run until midnight. The weather is calling for 90&deg weather over the weekend there, so we'll be sweating it out! Rich and I should be back Sunday evening. I'll have a report and hopefully some awesome photos here then.
Next Stop: Redding, CA - June 2nd
OHCP Zooms to new low ET
Woodburn - Sunday 5/20/01
Many firsts for the One Hot Chili Pepper team. We debuted our new 12' X 20' canopy and strip of astro-turf in the pits. We were cool in the shade all day and kept our knees clean while working on the car. We tried our brand new zoomies for the first time today...wow, they sound mean! As a result of the zoomies, we picked up more than 2 tenths over upswept collector-style headers with no mufflers. Our first pass of the day was a best ever 8.35 @ 159MPH. She was movin! We also logged our best 60' time to date with a 1.228. I think I'm hooked on the zoomies now.

Usually, the car picks up yet another tenth after the first lap, but it was not to be today. We dialed 8.29 for the first round anticipating picking up a bit more. Although I cut a .502 light, the car slowed a bit to 8.46. My second best ET ever wasn't close enough to my dial to get the win. Just when you think you've got it figured out, it goes another direction.

There was a huge crowd on hand to see the Federal Mogul dragsters and Funny Cars, Jet Dragsters, AA Gassers and 300+ other cars on hand.

Thanks Tom and Rich for the help!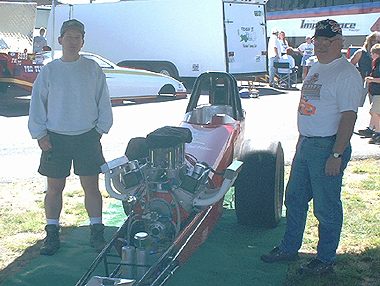 Tom Twigg (left) and Rich Dormer (right)
Woodburn - Saturday 5/12/01
Quite a few things were different for us this time out, and at least one of them caused us to slow down a bit. I finally had to put the collector mufflers in the headers at the request of the tech inspector. I also switched from expensive synthetic ATF to cheap stuff that I plan to change each week, and I advanced the timing 10 more degrees for a total of 40&deg static. We're pretty sure it's the mufflers.

The back pressure from the mufflers also caused the evacuators to quit working. The motor was filling the puke can half-full on every pass. I think the lack of crankcase vacuum and the restriction caused us to lose over 2 tenths. The only way I can think of to make it up, is to get some Super-Trapps. Maybe then the evac breathers will start working again too.

We got paired up with the Shepherds again for the first round. This time Vickie was driving. She cut a .507 light on me and then was only .01 over her dial-in. I cut a crappy light, and then the car decided to go way faster than in the practice rounds. I have great reaction times all morning every weekend, and then when eliminations start, I go into slow motion or something. I won't be getting past the first round much until I lick that one.

We'll have the new zoomies ready for next Sunday the 20th, it's an "unmuffled" event. Things are looking more solid for the nostalgia gathering at Redding, CA in early June.

Sergei supplied the terrific photo above. Keep tak'in those pictures man!
Woodburn - Sunday 5/06/01
Beautiful weather! It's about time we got some sun on a Sunday. The temperature stayed reasonable at 74&deg, and we got in 5 passes. We set a new best ET by .001, but had a leak on the transmission all day. It kept dribbling from the front right corner of the belly pan and we had to wipe everything down between runs. Finally on the last pass, something really let go and we had oil everywhere inside the cowl. Not sure what yet.

We got in 3 practice passes, and then a single for the first round when Mitch Cunningham broke. I managed an 8.569 which surprised the heck out of us. I dialed 8.60, so it's a good thing it was a single! This was also a best 60' time ever at 1.232. In fact, my 60' times were in the mid-1.2's all day.

I got paired up with Dan Shepherd for the second round. I dialed 8.570 thinking I would slow up a little as the heat built up in the tranny and the ambient temperature was still rising. I cut an atrocious light, and then the car slowed WAY up. Niether a perfect light or a perfect dial alone would have saved me. He cut a decent light and was only .03 off his dial. As I turned off at the end, smoke started billowing into the cockpit. I goosed it on the return road to get some speed, knocked her in nuetral and shut down. After I stopped at the wide spot, the ATF was pouring out of the belly pan. Not sure what is up with that, but it is thoroughly oiled up in there. Something to do this week.

Thanks Rich, Jeff and Shane for the help!

Next planned outing: Saturday, May 12th
More Parts
The SBC zoomies I ordered from Performance Motorsports arrived yesterday. They look great! I plan to weld a tube into the rear pipe for the breathers, have them coated and run them at unmuffled events this Summer. I also bought a 742 casting and a Strange spool from Carl in Georgia. I plan to do some 1/8 mile racing this July at Madras, and I want a complete 4.86 unit I can just drop in and run. I have everything for it now except a coupler and a few bearings.

The forecast now calls for SUNNY and 75 degrees for Sunday!
Sunday 4/29/01
Rain Rain Rain
It rained all night and was windy, cold and raining when I got up Sunday morning. We decided not to even try it. We'll give it a shot next Sunday, May 6th instead. A brand new 12' X 20' free standing canopy is on it's way. This should keep things dry on marginal days, and keep us out of the sun and heat on the hot Summer days in the pits.
OHCP Motor Looks Healthy
After the bad leakdown test numbers and poor performance last week, I decided to take the pan off and see what I could see. Everything looks fine...the cylinders look okay, the piston skirts look great, no grooves in the ring wear area. Maybe all the ring gaps are temporarily aligned on #8 or something! I pulled some caps and although the bearings are far from looking like new, they aren't terrible.

Barring bad weather, we'll be at Woodburn next Sunday!
Woodburn - Sunday 4/22/01
Rain-out

The OHCP Team faithfully appeared at 8:30AM, unloaded and warmed up The Chili Pepper. We got in one pass before the rain started, and it wasn't really a very good one. For some reason we seem to be down on power a bit. We still aren't running as lean as we should be, and for the weather, our time was almost 2-tenths off and 8MPH slow.

Rich and I made a new steering tube and radius rods last week. The new rods are almost 2" longer, thereby eliminating some of the caster that contributed to last week's backup mishap. It is much more stable in reverse, but it was really a handful on the pass we did today. It's hard to say if it is a result of the difference in caster or if it was just skating around due to lack of traction. The replay tach doesn't show anything that looked like tirespin.

When I got home, I did a leakdown test on the cylinders, and while most were 2-5%, number 8 is showing a whopping 16%. The motor wasn't fully warm, so I will be checking again next week while at temperature. I'll also be checking each cylinder at TDC and BDC before I get excited and start tearing things down. Hopefully I just have some worn rings and not a galled piston. The latter would explain all the flakes in the Oberg filter though.

Thanks Rich and Shelley for helping and getting all wet for the cause!

Next planned outing: Sunday, April 29th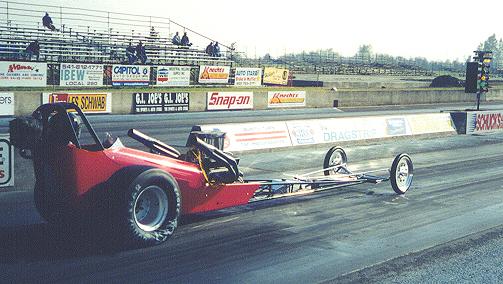 Woodburn - Sunday 4/14/01
One Hot Chili Pepper Makes Third Round
But Bent Linkage Thwarts Saturday Assault
It was mighty cold and we had some problems hooking up and finding consistency during the practice laps, but by afternoon we had bested our ET twice! Lacking any good data to go from, we dialed her low and just planned to keep it floored. Luck was on our side for round one and two, but ran out for the third round. I was backing the car up after the burnout and got going a little too fast. The front wheels wagged a couple of times and then flopped hard to the left. The built-in caster that helps the car track straight while moving forward makes it VERY unstable in reverse. Unfortunately, the linkage bent pretty severly, and I had to shut off. Driver error gets us again. A new piece will be neccessary, so chrome moly will be ordered Monday morning and we should be good to go for next weekend.

There were lots of photographers at the track today, so hopefully I'll have some great shots here soon.

Practice Pass #1 10:02 AM (50 Degrees) Left Lane:

8.679 @ 155MPH The car literally lept off the line and headed right in a big way! I almost got out of it, but it seemed to settle down and the front wheels were down, so I drove it through. A crappy 60' time (1.346) tells me that the pass wasn't much good as data for later today. I did get a .515 light...not bad.

Practice Pass #2 11:11 AM (50 Degrees) Right Lane:

8.611 @ 155MPH A new best ET. We used tire pressure to compensate for the hard right pull (1/4 PSI less in the left rear) and that took care of it. The car hit the wheelie bar and left good, but then broke loose 30' out. I stayed in it and it hooked again and took off. Another crappy 60' time (1.308) tells me 8.5's are coming up! maybe when the track temperature climbs a little.

Practice Pass #3 12:14 PM (54 Degrees) Right Lane:

8.570 @ 155MPH Another new best ET! A better 60' (1.292), but I managed a 1.266 two weeks ago, so there's more in there. It really pulled hard in 1st gear, nice straight pass. Crap, now where do we dial in? My light was good, .513.

1st Round of Competition - 1:40 PM (58 Degrees) Right Lane:

8.594 @ 158MPH I got really lucky here. I cut a crappy light and the car fell off with the increased temperature. I just dialed 8.57 realizing that a good 60' time would break me out. I figured I would lose a little, but hoped everything would come together and I'd maintain ET. I ran a little over, but the other guy had some problems and was way off on performance. YAY! My first round win.

2nd Round of Competition - 2:20 PM (58 Degrees) Right Lane:

8.627 @ 158MPH Again, I get lucky. A good light (.515 to his .528), but not enough to make up for my dismal dial in. I dialed 8.580 this time since the temperature was the same, and I'm thinking that magic 60' time might happen anytime now. I got a 1.353 instead of the 1.26 we were looking for. The only thing that saved us was that my competitor broke out by .001. That musta hurt. We're off to round three!

3rd Round of Competition - 2:56 PM (59 Degrees) Right Lane:

BROKE I've done well in the right lane all day, so why not stick with it, huh? None of the other guys seemed to care, so I took that side. The starter gave me the high-sign to hit the burnout, then made a motion to me like I should stop. It was weird, anyway, not a good burnout at all. I'm worrying about that as I come to a stop, wondering what that will do for my launch. I put it in reverse and began backing up, and I must have got it going a little too fast. The front wheels wobbled twice quickly, and then ripped the wheel out of my hands. It flopped clear over hard and I couldn't get it straight. The starter ran out to help, and it was obvious that something was severly bent. I tried backing up VERY slowly, and it immediately flopped again. ARRRGH! He gave me the shut-off sign, and it was all over for the day.

Thanks Rich and Mark for all the terrific help!




Track Report
Woodburn - Sunday 4/14/01
Rich, Brad, Steve and I headed up early this morning. The weather looked really marginal. By the time we got there, things had cleared up a little and the pavement was drying out. We unloaded everything, got the car ready to warm up, and heard that the track temperature was too cold to run. It was a chilly 39° and I was anxious to see how the car would perform with a density altitude of -760 feet! The event was cancelled due to the cold track suface and looked like it would rain out eventually anyway. We loaded up, headed for home and about 2 miles down the road it began to rain.

I finally met George Adams. Him and his wife Karen bring you the Northwest Drag Racing site at www.nwdragracing.com He's a great guy, go checkout their terrific site.

The track is closed next Sunday for Easter, so racing will happen on Saturday instead. The OHCP Team will be ready!
Woodburn - Sunday 4/1/01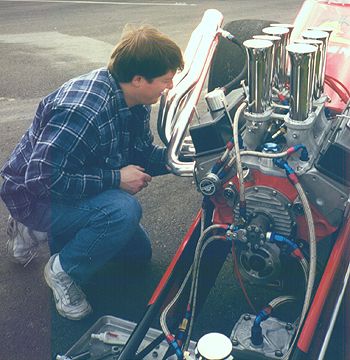 The weather looked iffy, but the forecast said just clouds and possible showers in the afternoon. They were right...while coasting in the shutoff area on my last pass for the day, it began to rain fairly hard. It stopped and racing resumed later for those who survived the first round.

Shelley's folks Scott and Bonnie, and her sister Jodi and husband Chris were visiting. We all had a great time. The OHCP Team had plenty of rooters in the stands!

After warm-up, the right bank of head studs were leaking again. We tore down that side and put more goo on everything and forced the studs tighter in the block this time. We wasted an hour doing that and missed out on a practice pass. No more leaks though.

Pass #1 11:10 AM (53 Degrees) Left Lane:

8.681 @ 153MPH It was the first pass with a full-tilt leave against the converter. It left very hard, and my 60-foot time was great. For some reason, even though the humidity and temperature were lower (almost 1000ft. less density altitude) than last week, everyone was running slower. So, my ET wasn't better than last week, but I shaved almost a tenth off my 60-foot time. We are still running very conservative (rich) on the injector and sacrificing some power. I'm trying to be careful not to burn the motor up just for another tenth. Right now, 8.6anything is fine with me, I just want to compete!

Pass #2 12:12 PM (54 Degrees) Right Lane:

8.690 @ 153MPH The density altitude climbed a few hundred feet and we expected performance to maybe drop off a bit. We were right. At least the car is responding predictably to weather. Still pretty consistent though! The data from these two passes, combined from last week's data should get us dialed very close for the first round.

Finally, I had people strategically placed so that I would know how it's leaving the line. Rich reported that the car hunkered down and the wheelie bar touched, but he couldn't see the front wheels. Jodi and Chris reported that the front wheels came up 4-5 inches. PERFECT! As performance increases, it may hit a little harder on the wheelie bar, but that's okay. She wandered a little to the right on the launch, but came back fine.

Now that I'm leaving quicker, my delay time in the box is WAY too short. I redlit on this one by .032. Since I felt really good about how I hit the tree, I decided to put an extra .032 in the box. 1st Round of Competition - 1:26 PM (54 Degrees) Left Lane:

My very first round of competition. I was paired up with a 9 second Vega driven by Larry Merrick. He's a great guy. As I'm waiting to fire up and go, my heart is racing and I'm really pumped. The pressure is on!

FOUL - no time We dialed her in at 8.68 and we could have won this one but I blew it. I carefully staged, pushed the transbrake button, let off the foot-brake, and the car rolled forward! The trans brake did not engage! ARRRGHH! Either something is wrong with it (not likely), my gloved finger did not push the button correctly, or more likely, I bumped the button while backing up. Once the button is pressed and released (on launch), it is disabled so that the transmission won't grenade if the button is bumped accidentally during the pass. I think I bumped it and it was disabled when I staged. I have installed a reset button for the delay box in case that happens, but if I don't know I did it, I don't know to use it. So much for my first round. It only gets better from here!

Thanks Rich and Shelley for all the help...




Report from Woodburn - Saturday 3/24/01
It started out foggy, and turned fairly nice by the afternoon. While waiting in the lanes for pass #4, it started to sprinkle. We dogged it out of line and headed for the trailer. The racing was over, and by the time we got loaded up, it was pouring. Looks like rain tomorrow, at least we got to play!

After warming it up, we had water leaks at the headstuds on the right bank. I must not have used enough goo. Don't want any leaks at the line, so we pulled off the right header, double-nutted the outer row of studs and put more ARP sealant goo on them. No more leaks. We wasted the first hour doing that, or we may have gotten in another run.

Shelley got a few pictures, but they won't be posted here until later in the week.

Pass #1 10:49 AM (60 Degrees) Left Lane:

Even though I have a wheelie bar now, I decided to try a less-than-all-out pass, just to shake things down. 8.73 @ 151MPH! I didn't leave at full throttle (same as last season), but I think the improvements to the heads helped down track. Finally in the 8's! I pulled the fuel shutoff in the lights, and after braking, pushed it in and jacked the throttle and it restarted no problem. So, the stalling problem seems to be solved with that procedure. I think it keeps the lines full of fuel and after the hard deceleration, allows the pump to reprime. Oh, by the way... I got a .501 reaction time on my first pass of the season. Lucky is all.

Pass #2 12:03 PM (66 Degrees) Left Lane:

Wow! 8.62 @ 154MPH with a less than stellar .585 light. I put another .010 into the box (running 1.020 total) because that .501 on the last pass scared me. Only .002 from a red-light. First gear pulls SO hard! I think my cheeks were touching my ears. More G's than I have felt before. She was 230 degrees after that pass and lost some coolant after shutdown. I need a higher pressure coolant cap on the motor. Adding 35lbs. to the nose seems to make all the difference; the wheelie bar isn't even touching yet. I'm running a launch rev limiting chip of 5000RPM which is below the converter stall. As soon as I put a 6200 or higher chip in there, it's really going to launch hard. If the wheelie bar still doesn't touch, well, then some of the weight comes out of the can!

Pass #3 1:01 PM (66 Degrees) Right Lane:

Getting consistent? 8.62 (again) @ 152MPH. My 60 foot times are still lame. I left the 5000 RPM chip in there for launch...but at least things are consistent! I wanted to find a spot where I could be competetive in case I make it back tomorrow and actually race. Next Saturday's test and tune will see the full enchilada. Hopefully consistency will still be there.

I took that .010 back out of the box (running 1.010 total) and got an improved .537 light.

I'm exhausted and the forecast calls for rain tomorrow. I don't think I will attempt going to the track but will wait and hit both days next weekend.

We pulled the Oberg filter apart and found lots of shiny metal flakes. Ouch. It could be bearings...I'll run it next weekend and see if it persists. I found that the dipstick has been rubbing on a crank counterweight, and I hope that's what the chunks are.

Thanks Rich and Shelley for all the help!




2000 Season Track Reports