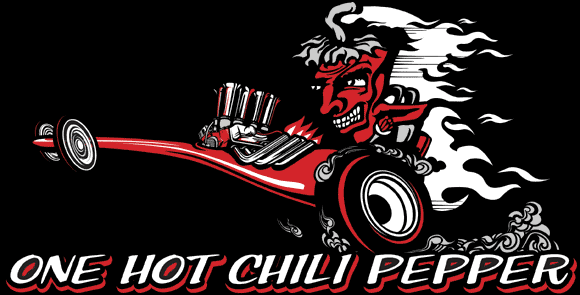 Updated: Sunday, May 24th 2015
New Bests and Runner-up at The Season Opener

Our tranny problems are definitely solved! Warming the car up, it made almost no heat. Even after a pass it was 100's of degrees cooler than our experiences of the past two years. Our driver did discover a new way to screw up...leave the starting line and make a whole pass with the fuel system on the "low side". This mode is for drying things up while backing up after the burn out to help build heat and save some fuel. After putting the top bulb on, I felt like I was forgetting something. Fortunately, it was so lean it didn't make enough heat to hurt itself but only produced a 7.87 ET for our first lap.

The converter and tranny are different than before and the load on the motor seems to be different now too. This had an adverse effect on our tuneup. What produced a 6.88 ET before netted us a couple of subpar passes. As we leaned it, things picked right up however. We qualified 5th with a 7.03 @ 199.91 MPH. We knew it would go quicker and indeed the car ran a 6.961 on a 6.96 dial-in in the first round. That and my better light meant first round victory. We ran a 6.96 on a 6.94 dial-in and combined that with a .002 reaction time to take the second round.

We left the 6.94 dial-in in place for the final round. While I cut a better light thanmy opponent, the car zoomed to a new best ET of 6.812 to break out by a bunch and give it away. The best way to lose in the world in my opinion is to go quicker than you've ever gone before and break-out. The crew was all smiles at the top end, arms waving...I thought we had won! They were as thrilled as I was to have our mojo back and be running some good laps again.

A huge thanks to crew: Gary Powell and Diane, Scott Charters, Tim Warden, and Bob Couse.

A few tweaks and we'll be ready for the Rose Festival event at Woodburn June 6th/7th.
Try it Again...

The last race didn't work out so well...I woke up Saturday morning with the crud. A head-cold/flu-like thing bit me hard and I could barely get out of bed. Turns out the group got some passes in Saturday for qualifying but things rained out on Sunday. We're trying it again this weekend at Woodburn Dragstrip's Season Opener! The forecast looks great, come out and see us.
Ready to Rock

After lots of bad luck with tranny parts last season, we think we finally have it figured out. Several different issues were identified when running the transmisson on a tranny dyno last fall at A-1 in Vancouver. A brand new valve body and pump were found to have issues passing enough fluid through things. The new input shaft was also changed out for one that flows more fluid past it. Due to lack of circulation, we were building fatal heat just idling in low gear! No one suspected the parts of course because they were all brand new. The dyno proved its worth in finding root cause and A-1 fixed us up with top-notch pieces to replace those that were faulty from that "other" manufacturer.

It's been a while since we've given our cylinder heads much attention. Since our friend Rob Louthan's shop is up and running again, we'll be taking our heads to Louthan Competition in Salem, OR sometime soon for a going-over.

Our 2015 schedule will consist of the Woodburn Dragstrip races on the Pro Nostalgia tour. First up is the Tulip Festival drag race next weekend. Hoping for great things...See you there!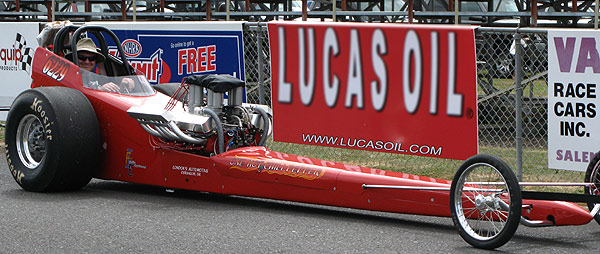 The Lost Season(s)

Transmission problems continue to plague us. An improperly machined relief piston in the new valve body wasted most of last season for us and also did a number on the last event. When the relief piston decided to jam open, we had low pressure and burned up everything inside the transmission due to slippage and heat. This last time, it stuck shut and caused insanely high pressure which destroyed the brand new pump at the top end of the track.

We resolved all that and fired it up in the driveway last night assuming we were good to go. While everything worked, our line pressure was only 110 PSI...not the 200+ required to keep from torching all our parts again. It appears that during re-installation, the converter wasn't back all the way and got pinched between the tranny and engine while bolting it together. We backed the bolts out and tried again and got it right. However, we must have damaged the brand new pump when we did that and now it won't make good pressure. So, we'll be sitting out the Oldies but Goodies event this year. We've got six weeks until the Hot Rod Nationals...we'll shoot for that one and I guess that'll be it for us this year. Pretty discouraging.
2014 Underway

It's been forever since I've updated things here. All the thrash of a home and shop move, less emphasis on my racing and more on everyone else's (WORK for me!), meant a lack of time and energy to do much racing myself. Well, things have settled down, we're in the groove now and things are ready for a new season.

The car has just been recerted and is mostly together with a fresh transmission in it. We just test fired it last weekend on methanol and things look great. Our old off-board tranny cooler has been revamped and is ready to help with the heat. New T-Shirts have been designed and ordered! Hopefully, they're here before the first race at the end of April.

We have a couple of great guys joining the team for this year. In addition to my main guys Gary Powell and Scott Charters, we'll have Kenny McGarry and Tim Warden helping out as well. I've just updated the specs for the car this year as well as our schedule for this season. While we plan to make it to the Seattle race, we aren't for-sure on that. We're planning to skip the Bremerton and Mission race, but who knows?

I just wiped the homepage here clean, but since the action hasn't started yet for this year, I left my favroite photos from the last couple of seasons below. A great big thank you to George & Karen Adams from NW Drag Racing, Kimberley Mansfield and Chris Dafoe for the terrific shots.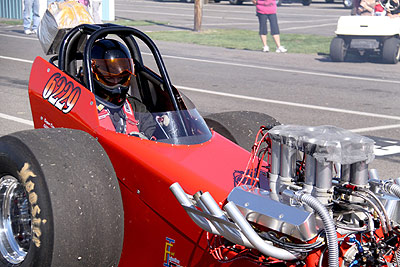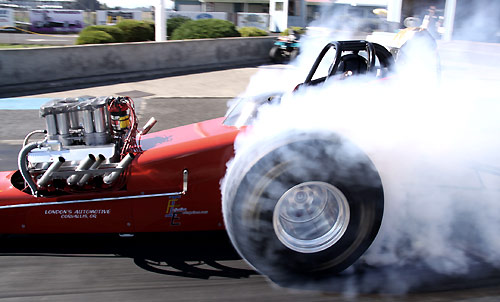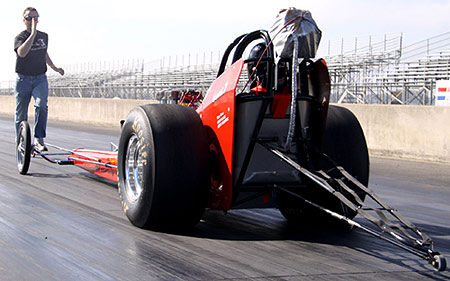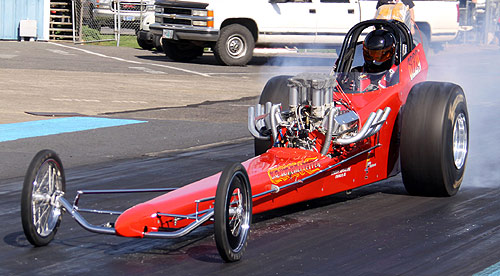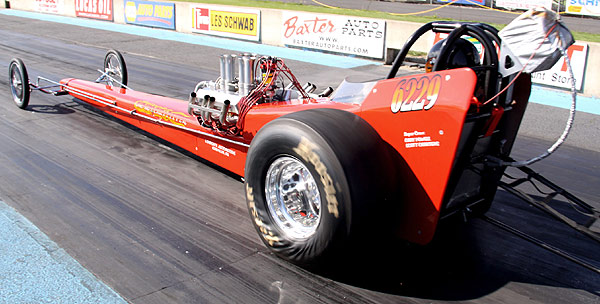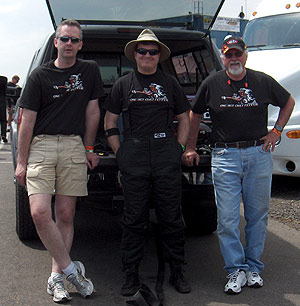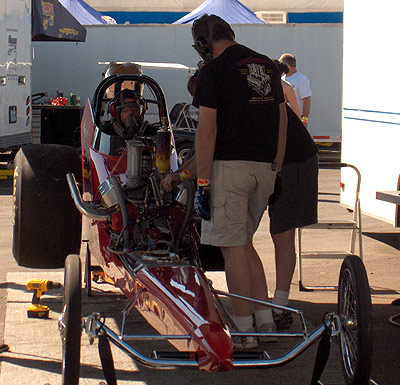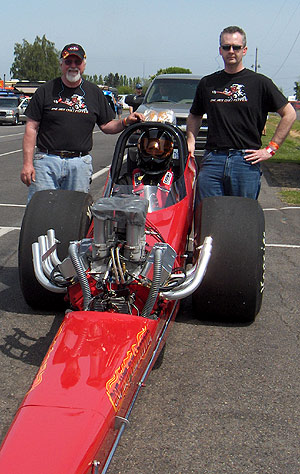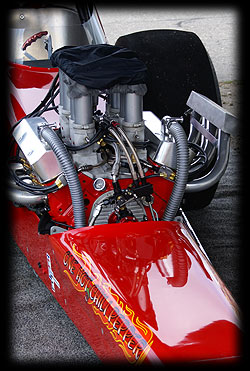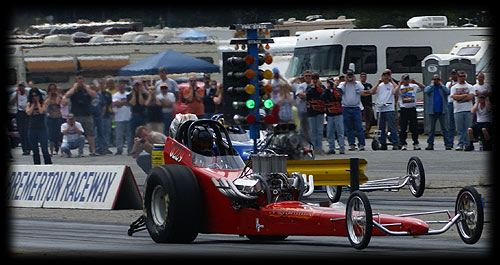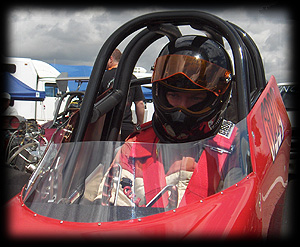 ---
Contact: spud@spudmiller.com